4 best shampoo bars of 2021
'Life isn't perfect, but your hair can be.' Everyone craves for 'good hair day,' don't we? But seldom do we put in efforts to make our hair look great. Just like any other thing in our body, our hair needs optimal care and nourishment to fight the daily ordeals of pollution, dirt, etc. For this, you need to choose the best hair care product according to your hair type.
Eco-friendly shampoo bars are quickly becoming a crowd favorite for people. In a nutshell, shampoo bars are nothing but a foam of soap. Moreover, it uses no unnatural content.
The homemade shampoo bars are devoid of any harmful ingredients. Therefore, they always play an important role in keeping your hair in good health. Moreover, their fragrance can make your bathing experience a treat to remember.
At Mike's soaps, we have the best shampoo bars for our customers, which will suit their hair and provide them with a luxurious bath experience. In addition, our organic shampoo bars are made in small batches. Therefore, we make sure that the ingredients in the shampoo bar are of top quality.
In this blog, we will bring before you the 4 best shampoo bars of 2021. Thus, it's time to say 'hello to good hair day' as the natural shampoo bars in our list are 'superstars' in their own right.
Here we go!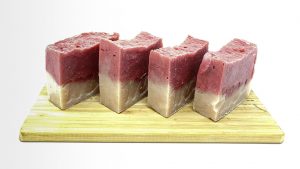 As the name itself suggests, the Apple Berry Shampoo Bar contains the richness of fruity green apple top notes. The bar's fragrance is made of sweet vanilla, cotton candy type bottom notes, among other ingredients.
The greatest USP of the Apple Berry Shampoo Bar is one of the most solid shampoo bars. It contains no plastic and has a shelf life way better than a cosmetic shampoo bottle. As there are only natural ingredients in the shampoo bar, it can benefit your hair immensely.
The process of using the Apple Berry Shampoo bar is very simple. You can use this hair soap as you will use any of the commonly available liquid shampoos. First, wet your hair and then wet your hand and the bar of soap. After this, rub your hands against each other until a nice lather is created. Once the lather is created, you can gently apply the natural shampoo bar to your hair and let it create its magic.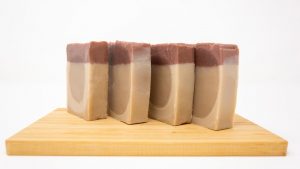 Brave Shampoo Bar is for you if you are fond of subtle notes that the natural ingredients create. It has an optimal layer and notes of vanilla, musk, sandalwood, among others in its lathery. Therefore, it will give a subtle masculine feel when taking a bath using this organic shampoo bar.
Another thing that makes Brave Shampoo Bar a hit is its longevity. This solid shampoo bar has a shelf life 2-3 times better than an average shampoo bottle. Moreover, at Mike's soaps, we make all our products with love, and they aren't tested on animals.
In addition, the Brave Shampoo Bar, along with all the other natural shampoo bars, are paraben and sulfate-free. Thus be rest assured of the fact that you are not adding any harmful plastic to your hair.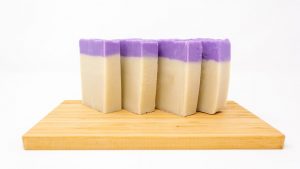 Bathing should be a soothing and peaceful experience. With the Lavender Shampoo bar, you can take your bathing experience to the next level with the fragrance of lavender. It is the best shampoo bar and conditioner that will render a calming experience along with being good for your hair.
This bottle-less shampoo is very convenient given the fact that we live in a fast-paced world. It can be used as a shampoo bar for curly hair or any hair, just like all the best shampoo bars of 2021. Be it taking it to the gym or traveling or trekking. The Lavender Shampoo bar is easy to manage and carry. Their portable prowess is one of the main reasons why natural shampoo bars have become a huge deal. Moreover, their usage is rising by leaps and bounds with time.
Besides this, the organic shampoo bar has more volume and adds more shine to the hair. And we are not saying this on our behalf. This is what our happy and satisfied customers have told us.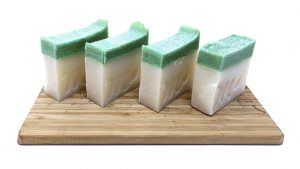 Bathing, apart from cleaning our skin, plays an important role in getting us ready for the day. On top of this, bright shiny hair will add stars to your confidence. Rosemary Mint Shampoo Bar has all the ingredients to provide you the best bathing experience and take care of your hair at the same time.
Its ingredients have a refreshing blend of fresh garden herbs, zesty mint with all the goodness of rosemary. The hair soap is very durable, and as it is full of natural and sustainable ingredients, it helps maintain the hair just in the right form.
The natural shampoo bar can also prove to be a happy break that you can give to hair and refrain from using synthetic stuff. To use this product, you have to wet your hair and rub the hair soap against your hand. It will then form a very fragrant lather that you can gently rub on your hair.
After this, all you have to do is leave it for a minute or two and then wash it off. Do not forget to add a mild conditioner. Thus, doing full-throttle hair care with the best shampoo bar will keep your hair happy.
Hair care becomes a difficult task when you do not choose the right hair care product or indulge too much in synthetic products. At Mike's soaps, we understand the needs and the requirements of our customers to the core and thus render only the best shampoo bars available in the market.
Customer satisfaction has been and will be our ultimate motto. Thus, give your hair 'a treat', try the solid shampoo bars, and get a rejuvenated hair care experience.