Did you know handmade soaps are good for skin?
Skincare is an integral part of total body care. Moreover, in the present times, where there are hazardous chemicals and pollutants everywhere, skincare becomes even more critical. Now, to keep your skin in good health, you need to follow a good skincare regimen.
To follow a good skin care regimen, there are a few do's and don'ts. The first one in this category is the usage of homemade skincare products. Yes, the new-age consumers need to understand that natural soaps are suitable for the skin. They might now look as glamorous as their commercial counterparts, but they are second to none when it comes to skincare.
At Mike's Soaps, we work on the basic formula of providing a range of the best homemade soaps to our customers. Since we believe in quality, we develop all our products in small batches to take care of the ingredients in each soap.
In this blog, we will understand the 'Goodness of Handmade soaps.' Moreover, we will also see natural soap's skin benefits and help counter hazardous pollutants.
So without further ado, let us begin.
1: What makes handmade soaps different?
The greatness of any product, especially skincare, lies in its ingredients. Thus, as the handmade soaps are made of natural plant extracts, they do not have any side effects on the body. In addition, their natural ingredients make the handmade soaps different from their peers.
In addition to the natural ingredients, handmade natural soaps at Mike's Soaps are pocket-friendly as well. Their shelf-life is way more significant than any commercial soap, allowing them to use them for more extended periods.
2: Benefits of handmade soaps
The benefits of handmade soaps are immense and diverse. So to put everything in perspective for you, we have listed a few for your use.
3: Gentle on the skin
It will not be an overstatement if we say that handmade soaps are the gentlest skincare products you can use for your skin. Since they are devoid of harsh chemicals, they provide a natural and long-lasting glow to your skin. In addition, it clears the pores of the skin and also maintains its moisture levels.
4: Suitable for all skin types
One of the many disadvantages of using commercial soaps is that they are not suitable for any skin type because of their harmful chemicals. However, such is not the case with handmade natural soaps.
Any person of any skin type can use the handmade soaps without the fear of getting some ill effects. There are many homemade soaps for sensitive skin and homemade soaps for acne available in the market.
At Mike's Soaps, we have a wide range of natural handmade soaps to cater to our customers' requirements. In addition to the natural soaps, there is no shortage of other natural skin care products with us. Visit our website to know in detail about our other products.
5: Enhances your bathing experience
It might seem a simple daily activity, but bathing is mighty necessary to clean your skin and keep it fresh. Now since bathing is a daily activity, you must always keep a keen eye on the skincare products you use.
When you shift to naturally handmade soaps, you will have a bathing experience like no other. The natural scent of the soap and its natural ingredients will give you a therapeutic experience while being good and beneficial to the skin.
6: They are real SOAP
Unlike the commercial soaps, the handmade soaps are made with no hidden agendas or ingredients. When you search for locally made soaps near me, Google will show you the result of natural homemade soap manufacturers that make their products with love and care.
Commercial soaps are mass-produced. Thus it becomes impossible for the company to maintain the quality. Moreover, they add harmful products to preserve the longevity of their soaps. It might be shocking for you to understand, but the commercial soaps are nothing but a cocktail of chemicals served in a packet.
7: Vivid options available
Since the ingredients of the homemade soaps are natural, they are readily available. As homemade soap manufacturers have multiple ingredients at their disposal, they are spoiled by choices. This creates a win-win situation for the customers as they will have access to a wide range of handmade soaps. So be it homemade soap for acne or homemade soap for sensitive skin, they will have all bases covered.
At Mike's Soaps as well, we produce a wide range of natural homemade soaps and other skincare products. If you wish to know what kind of natural soaps we sell, please visit our products section.
8: Maintains a naturally healthy skin
Healthy skin is a desire of every person, but to achieve it, one must be proactive while choosing one's skincare products. Natural soaps are suitable for the skin; thus, it becomes a no-brainer to use nothing but natural homemade skincare products.
Moreover, the customers also need to understand that our skin is very porous and absorbent. So when you treat your skin with chemical-ridden products, it would have a dreadful long-lasting impact on it.
Natural homemade soaps help in easing different types of skin conditions like acne, sensitivity, etc.
Moreover, they are more soothing to different skin types as compared to the chemical soaps. So, when you switch to naturally homemade soaps, it will help maintain the natural moisture in the skin and keep it healthy for longer duration.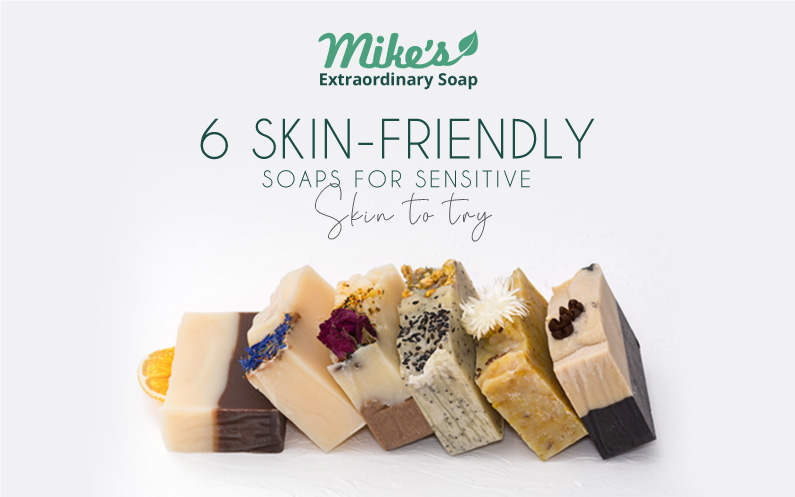 9: It has a lesser adverse impact on the environment.
Along with being gentle on your skin, the benefit of handmade soaps is that they are gentle towards the environment. Handmade soaps at Mike's Soaps are made of organic ingredients that are better for the environment. In addition, natural soap manufacturers tend to use eco-friendly shipping and packaging methods that are made of recycled materials.
Thus, when you use natural handmade soap, you ensure that the environment doesn't get polluted.
The benefits of handmade soaps will help you treat your skin in the right way and keep it healthier for a very long time. Moreover, as the natural handmade soaps are pocket-friendly, they can be used by people from different economic backgrounds. Thus, don't wait and order your natural homemade soap from Mike's Soaps now.